Google is celebrating its 12th birthday today with a (comparatively unremarkable?) doodle featuring a painting by 79-year-old American artist Wayne Thiebaud.
The GOOGLE.COM domain name was registered on September 15, 1997, but the company wasn't incorporated until a year later. What Google's official birthday is remains debatable, but for today, it's September 27th. Happy birthday, Google!
Below is a look at Google's birthday doodles from years past.

2002. 4th Birthday:

2003. 5th Birthday: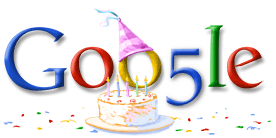 2004. 6th Birthday:
2005. 7th Birthday:

2006. 8th Birthday:

2007. 9th Birthday: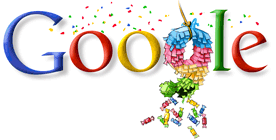 2008. 10th Birthday

2009. 11th Birthday