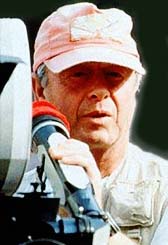 Tony Scott, British-born director of blockbusters that include Top Gun and True Romance, jumped to his death today from the Vincent Thomas Bridge at the Los Angeles Harbor in San Pedro. Not the first.
Aged 68, Tony was the younger brother of director Ridley Scott.
If you're not familiar with Los Angeles, the Vincent Thomas Bridge is walking distance from where Rip Greamer awaits at the door of Williams' Book Store on Sixth Street in downtown Pedro. Drop in and say hi, but take everything he says with a grain of salt.
RELATED: YOUR SUICIDE HAS BEEN DENIED
UPDATE: Sources say Scott was facing inoperable brain cancer.